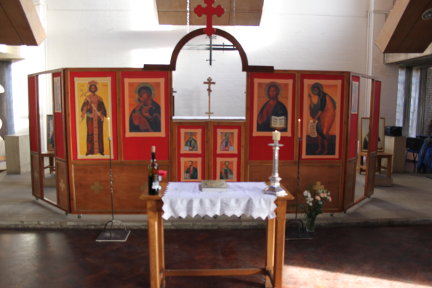 Welcome to St. Constantine's, a community of Orthodox Christians in the City of York. We are part of the Antiochian Archdiocese of the British Isles and Ireland, and practice the One, Holy, Catholic Faith given to us through tradition by the Apostles of our Lord Jesus Christ.
Whether you are a practising Orthodox Christian looking for a local parish, a religious 'seeker', or simply curious, you are warmly welcome to join us. You will find all the information you need here, or you may contact the clergy by email.
Our bishop, Metropolitan Silouan, has sent an urgent message to us all. Please read it here.
Orthodox Prayers for the Sick: Here
Important update on the Parish and Coronavirus
Metropolitan Siloaun has asked us to follow the instructions issued by the Patriarch for dealing with the Coronavirus epidemic. These severely limit public access to worship in our churches. So it is with great sadness that we are unable to offer services in the chapel over the next few weeks, and possibly for several months.
We will continue, along with all Orthodox churches, to offer prayers and worship as best we can. In particular, we encourage everyone to read Typika Service at 10 am every Sunday in their home. You can find the text of the service here, together with a growing set of resources to help you practice our Orthodox faith in these challenging times.
We have produced a newsletter to give you fuller information about what we are doing now and what we intend to do in the future. Please revisit this page and also our Facebook page regularly for updates to our situation.
In addition you can find out what is happening in our diocese here.
God bless you!
Fr. Æthelwine, Fr. Michael & Fr. Dcn. David