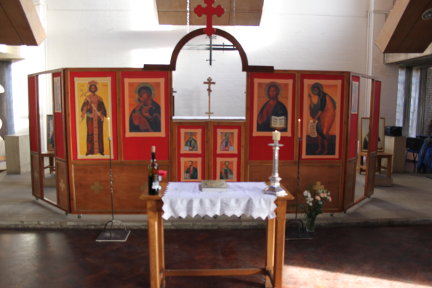 Welcome to St. Constantine's, a community of Orthodox Christians in the City of York. We are part of the Antiochian Archdiocese of the British Isles and Ireland, and practice the One, Holy, Catholic Faith given to us through tradition by the Apostles of our Lord Jesus Christ.
Whether you are a practising Orthodox Christian looking for a local parish, a religious 'seeker', or simply curious, you are warmly welcome at our regular services. You will find all the information you need here, or you may contact the clergy by email.
St Constantine's on the move!
Throughout the summer our usual home, the chapel at York St John, will close for renovation.
The Orthodox Community of St Constantine will not close! We shall continue to meet for the Divine Liturgy Sunday by Sunday.
Arrangements for our services are as follows:
July 1st – September 16th
Where: Quad South Hall on the YSJ campus. This is the former college chapel on Lord Mayor's Walk (see campus map).
When: Sundays at 10am
Parking options:
The car park at Park Grove School – 8 mins walk away (see route map).
If you arrive early there may be space in the campus car park.
We are very grateful to the University authorities for finding us alternative accommodation.
Fuller details on the temporary move and copies of these maps are also available to download as PDF files.
For further information about how the interior of the University Chapel will look after the alteration work has been completed, please visit the YSJ Chaplaincy web page.